The Simi Valley Corvette Club is more than just two meetings a month. It's about making friends, getting together with these friends and taking AMERICA'S TRUE SPORTSCAR out on the road, for a "run".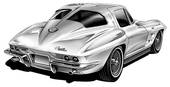 We're experiencing another great year.  Club membership exceeds 150 and enthusiasm is high.
Here's a photo of our guest president; guest vice president; and guest secretary for the past meeting!  Great job Steve (and all).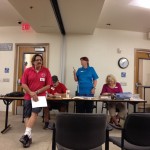 —————————————————–
Thanks to Pat L for the following: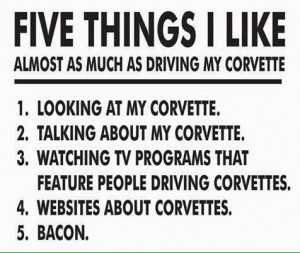 ————————————————-
Skip & Marilyn picked up their Shark Grey Metallic Z06 recently in Bowling Green. Here are a couple of pictures:
———————————————–
Anyone interested in getting photo club badges can contact:
Ron Kennedy, West Star Digital, ronkennedy@Verizon.net – 626-252-3376
———————————————
Members interested in obtaining a removable and reusable window banner to display our club name and logo can contact Steve Johnson.  Here's what the banner looks like on a C1: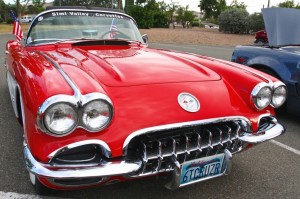 Here's a link to the NCM webcams:
http://www.corvettemuseum.org/webcam
Introducing our EBoard for 2015:
President

– Tom E Lee
Vice President

– Steve Cowan
Treasurer

– Ginny Kuntuzos
Secretary

– Nancy Lee
Contacts:  Steve Johnson (website) 805-340-1960; vettesimi@yahoo.com      
Here is a link to our Application Form
Our fine partner and sponsor:
Simi Valley Chevrolet                                  Simi Valley Chevrolet Ltr July 15 2011
1001 Cochran Street.
Simi Valley
CA 93065
805-527-2372
www.simivalleychevrolet.com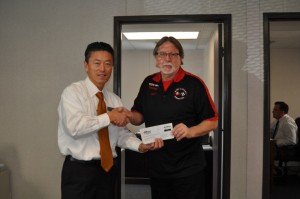 Simi Valley Chevrolet just reaffirmed their support of our club and will continue to offer 20% off parts and labor for our vehicles, along with "best price" on vehicle purchases by club members.