The Simi Valley Corvette Club is more than just two meetings a month. It's about making friends, getting together with these friends and taking AMERICA'S TRUE SPORTSCAR out on the road, for a "run".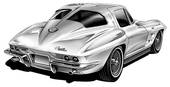 Open house and book signing at Simi Valley Chevrolet on December 7th.  We need full participation and want to fill the front lot.  9:30 – 2:00.  Our sponsor is having lunch catered!
Congratulations to the Corvette Racing Team  for capturing the drivers' championship; the manufacturer's championship; and the team championships for the ALMS series of 2013.  They wiped the competition this year including Porsche, Ferrari, BMW, Jaguar, Viper!
Introducing our EBoard for 2013:
President

– Reggie Lee


Vice President

– Bob Silverman


Treasurer

– Ginny Kuntuzos
Secretary

– Marilyn Bolnick
Contacts:  Steve Johnson (website) 805-340-1960; vettesimi@yahoo.com
Here are links to our Application Form as well as our fee schedule:
Our fine partner and sponsor:
Simi Valley Chevrolet                                  Simi Valley Chevrolet Ltr July 15 2011
1001 Cochran Street.
Simi Valley
CA 93065
805-527-2372
www.simivalleychevrolet.com