The Simi Valley Corvette Club is more than just two meetings a month. It's about making friends, getting together with these friends and taking AMERICA'S TRUE SPORTSCAR out on the road, for a "run".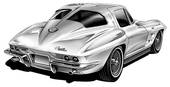 We're experiencing another great year.  Club membership exceeds 160 and enthusiasm is high in 2014. 
If you missed our last meeting, you missed a chance to test drive a silver C7 convertible, courtesy of our sponsor – Simi Valley Chevrolet
Congratulations to the Corvette Racing Team  for capturing the 2013 drivers' championship; the manufacturer's championship; and the team championships for the ALMS series.   They wiped the competition this year including Porsche, Ferrari, BMW, Jaguar, Viper!
See the Tudor United Sports Car Championship page for 2014 results
Introducing our EBoard for 2014:
President

– Bob Silverman
Vice President

– Lois Friedman
Treasurer

– Ginny Kuntuzos
Secretary

– Marilyn Bolnick
Contacts:  Steve Johnson (website) 805-340-1960; vettesimi@yahoo.com      
Here are links to our Application Form as well as our fee schedule:
Initiation Fee and Dues Schedule for 2014
Our fine partner and sponsor:
Simi Valley Chevrolet                                  Simi Valley Chevrolet Ltr July 15 2011
1001 Cochran Street.
Simi Valley
CA 93065
805-527-2372
www.simivalleychevrolet.com
Simi Valley Chevrolet just reaffirmed their support of our club and will continue to offer 20% off parts and labor for our vehicles, along with "best price" on vehicle purchases by club members.